Portrait of Nicolas TACQUARD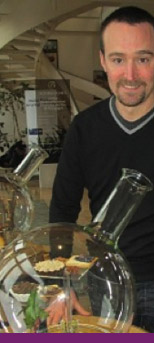 Stemming from my professional experience and personal philosophy, Wine Dream Concept invites you to discover the world of wine in new and different ways.
After spending ten years abroad working as a sommelier in luxury hotels and private members' clubs, notably in London and in Luxembourg, I am now back in Burgundy and wish to share my passion for wine with you.
A tutor at the Ecole des Vins de Bourgogne, I have hold the BIVB accreditation of "Formateur Officiel sur les Vins de Bourgogne" (Official Burgundy Wines Instructor), alongside only fifteen colleagues in France.
I also present a segment revealing the secrets of wine tasting on Millésime, a monthly programme running on the French TV channel France 3 Bourgogne.
Do join me for a guided visit to a local wine cellar or a walk around a scenic Burgundy vineyard and, under my enthusiastic expertise, unearth a new invigorating perspective on wine.
Nicolas Tacquard
WINE DREAM Concept
-
Nicolas TACQUARD
Tél. : +33 380 208 808 / Port. : +33 660 424 201
LBA - 11 av. du 8 septembre 1944 - 21200 BEAUNE /
info@wine-dream-concept.fr
Join Wine Dream Concept on

------------------------------------------------------------------------------------------
Realization :
La Brune Aventure communication